Welcome message
Dear colleagues,
Dear ESSR members,
It is my great honor and pleasure to introduce the new board of the ESSR, voted in at our last meeting in Geneva, Switzerland.
Prof. Wolfgang Jungraithmayr, treasurer, has taken over from Prof. René Tolba. Professor Jungraithmayr is based in Rostock, Germany and is the head of the department of Thoracic surgery and an esteemed researcher specialized in lung cancer and organ transplantation.
Dr. Mikael Chetboun, secretary general, has taken over from Dr. Thomas Hubert. Dr. Chetboun is a General and Endocrine surgeon from Lille, France specialized in islet of Langerhans and pancreas transplantation surgery.
Dr Lisa Rancan, a biomolecular researcher in surgical research, based in Madrid, Spain and past congress president of the ESSR 2018.
Dr. Jaroslav Chlupac, a Vascular and Transplantation Surgeon from Prague, Czech Republic who is active in the field of surgical research with interests in vascular tissue engineering and transplantation.
Dr. Thomas Theologou, a Cardiovascular surgeon based in Lugano, Switzerland and Liverpool, United Kingdom, and past ESSR congress president in 2015.
Dr. Manuel Maglione, associate professor of the General and Transplantation surgery department in Innsbruck, Austria, and congress president of the ESSR 2020.
And myself, Dr. Konstantinos Vakalopoulos, president, has taken over from Prof. Jiri Froněk.
For those of you who do not know me, my name is Konstantinos Vakalopoulos. I am a hand surgeon in Geneva, Switzerland and have obtained a PhD in surgical research on the subject of tissue adhesives in 2016. I am still active in surgical research, and also in the creation of a national registry for hand surgery. I am half-Dutch, half-Greek and have lived in various places in Europe and the USA. I have been an active member of the ESSR since 2011 at the Aachen meeting, and have been serving the board for the last years. After presiding a successful ESSR 2019 conference, with many long-time ESSR participants as well as many new faces, I am pleased to announce that I have been given the opportunity to take the ESSR forward in the next years, as the new president of our great society.
I would like to take an opportunity to thank the exiting board members, Jiri Froněk, René Tolba and Thomas Hubert for their hard work and dedication. They led our society through some difficult times and were able to keep the focus on the future, as well as extending their mandates to help the ESSR the best way they could: on behalf of the new board members of the ESSR, thank you! We hope to profit from your experiences and hope that you will stay close during the coming years.
The ESSR is going into a new phase. This year's meeting has proven that there is a great interest in bringing like-minded researchers and surgeons together in a single broad conference. We have found our niche: We are the bridge between super-specialized international surgical conferences and national meetings, and give the opportunity to young surgeons to present their research and to benefit from experiences from a large forum of researchers, surgeons and engineers. We have had a lot of positive feedback after this year's meeting, during which several new initiatives were introduced: we opted for a two-day conference with a closing ceremony on Friday night, with more than 100 people staying for the closing drinks after the awards ceremony. Furthermore, we grouped the parallel sessions by surgical specialization, so that participants may choose to follow a more tailor made program adapted to their research interests. Of course, the plenary sessions hosted all participants and stimulated interesting debates and new ideas.
The new board is full of ideas to take the ESSR forward, we vow to be transparent and actively communicate with our members. We are now in the handover phase of our mandate, so it is a perfect time to ask our members if they have any feedback or ideas for the future. Please do not hesitate to contact our board or myself directly.
I would like to ask you to please register as a member of the ESSR. We need more paying members to increase our power and visibility. Please note that the annual fee is deducted from the congress registration fee, and that we now have a new web-based registration system!
Lastly, please save the date for the ESSR 2020 Virtual congress, which will take place in the beautiful town of Innsbruck, Austria from 10-11 December, 2020. 
On behalf of the ESSR board,
Surgically yours,
Dr Konstantinos Vakalopoulos
President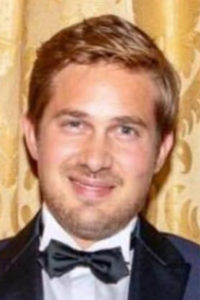 Konstantinos Vakalopoulos
President
Dr. Konstantinos Vakalopoulos is a hand & nerve surgeon based in Geneva, Switzerland.
He is also the president of the European Society for Surgical Research, and organised the ESSR annual meeting in 2019.
He has experience in surgical research, and has done his PhD in the field of tissue adhesives and biomechanics in the field of colorectal surgery.
He is half-Greek half-Dutch and has lived in the USA, Greece and the Netherlands before moving to Switzerland.
Hand Surgery
University Hospital of Geneva
Geneva, Switzerland
president@essr.surgery
Mikael Chetboun
Secretary General
Dr. Mikael Chetboun is a digestive surgeon specializing in metabolic and endocrine surgery and works at the University Hospital of Lille in France. After a residency in hepato-bilio-pancreatic surgery, his area of research at the University Hospital of Lille (Prof. F. Pattou) aims to optimize islet transplantation in severe type 1 diabetics, through islet allotransplantation and also through islet autotransplantation in patients who are undergoing pancreatic surgery for benign or malignant diseaes.
Endocrine Surgery
University Hospital of Lille
Lille, France
secretary@essr.surgery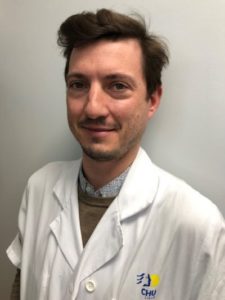 Vincent Vangelder
Treasurer
Vincent Vangelder is a digestive surgeon working at the Department of General and Endocrine Surgery at Lille University Hospital. His surgical practice mainly focus on bariatric, metabolic and endocrine surgery. He's teaching at the Faculty of Medicine of Lille, France and he's collaborating with a research group at the University of Lille, INSERM U1190, devoted to the clinical development of biotherapies for treating diabetes, part of the LABEX European Genomic Institute for Diabetes (EGID). His research is devoted to the surgical treatment of endocrine and metabolic diseases and focused on cell therapy for type 1 diabetes and metabolic surgery for type 2 diabetes.
Digestive Surgery
University Hospital of Lille
Lille, France
treasurer@essr.surgery
Lisa Rancan
Past President ESSR Congress 2018
Having received the DVM degree from the Università degli Studi di Milano (Italy) in 2010, my research career began as a predoctoral researcher in the Department of Biochemistry and Molecular Biology of the School of Medicine of the Complutense University of Madrid.
My research focused on the modulation of the inflammatory response secondary to the pulmonary ischemia – reperfusion injury observed after lung resection surgeries and lung transplants. Since October 2015 I collaborate as an Associate Professor with the Department of Physiology of the School of Medicine of the Complutense University of Madrid and my main interest is to investigate the inflammatory response related to transplant surgeries as well as in other types of surgeries. My research is carried out both in humans and in animal models and is reflected in the publication of several articles published in indexed journals and in the presentation of more than 50 communications to international congresses.
Veterinary – Researcher
University Hospital of Madrid
Madrid, Spain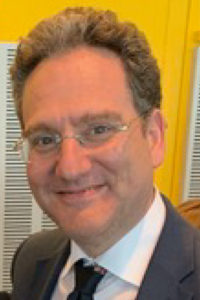 Thomas Theologou
Past President ESSR Congress 2015
Mr. Thomas Theologou is a consultant cardiac surgeon based at Cardiocentro Ticino in Lugano in Switzerland. He qualified in UK and holds a Certificate of Completion of Training (CCT) and a Fellowship in Cardiothoracic Surgery FRCS (C-Th). He is a Senior Honorary Lecturer (Associate) at the University of Liverpool in UK. He holds academic degrees in various European Universities: MPhil(UK), m-MBA(Switzerland),MSc Imperial College London (UK),BSc(Italy). He qualified as a doctor (MD) at the University of Trieste in 1999 in Italy. He has more than 30 publications in peer reviewing journals and written book chapters. He joined the ESSR in 2010 and he was the congress president for the ESSR2015 in Liverpool in UK. He granted the Walter Brendel award of the year 2011 while he was working on his project in human operated adult hearts to explore the genetical code of the cardiac stem cells c-kit+. He enjoys academia, teaching junior surgeons and be a mentor.
Heart Surgery
University Hospital of Liverpool
Liverpool, England
Jaroslav Chlupac
Board Member
Vascular & Transplantation Surgery
University Hospital of Prague
Prague, Czech Republic
Manuel Maglione
President ESSR Congress 2020 - 1st Vice President
My name is Manuel Maglione and I work as an associate professor at the Department for Visceral, Transplant and Thoracic Surgery at the Medical University Innsbruck, Austria. My fields of interests are transplantation and HBP surgery which is also reflected in the annual courses I am organising in Innsbruck. My basic and translational research focuses on immunomodulatory mechanisms of pteridines using different murine transplantation models. My major clinical interests are bile duct complications following liver transplantation, pancreas transplantation and minimally invasive surgery. Currently, I am also building a task force to analyze microbiome alterations in HBP tumours.
For further details about my CV please visit
www.chirurgie-innsbruck.at/de/team/d/33/assoz-prof-priv-doz-dr-manuel-maglione.
General & Transplantation Surgery
University Hospital of Innsbruck
Innsbruck, Austria